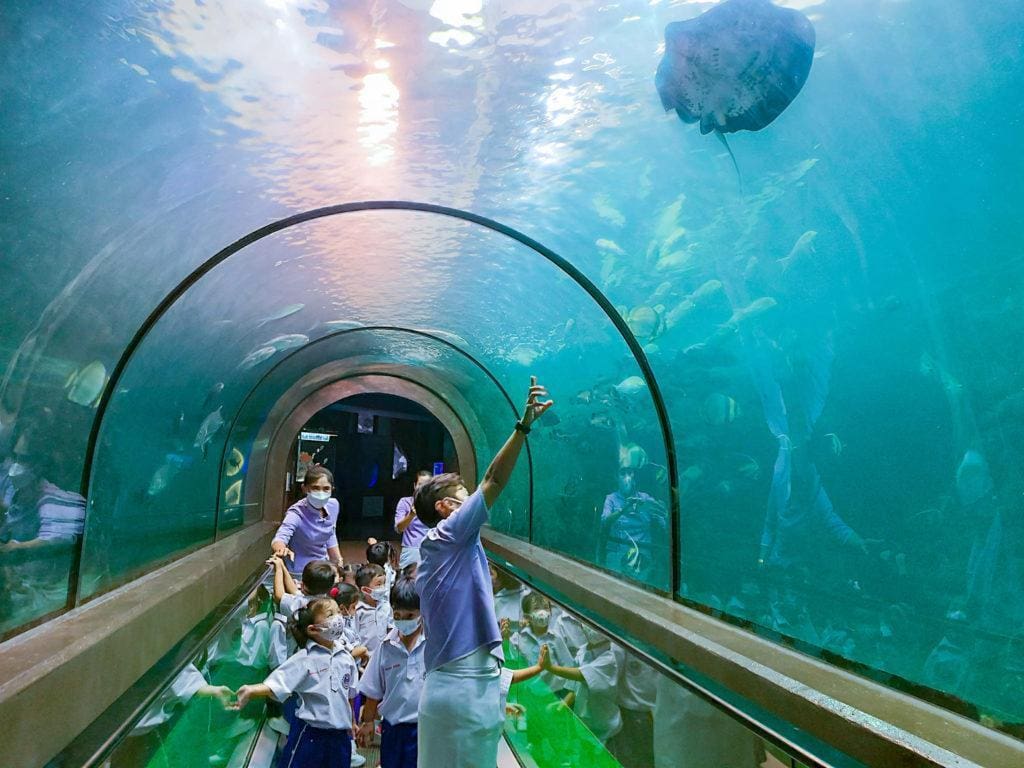 The Phuket Aquarium in Cape Panwa is not immense, as the tunnel is only a few metres long, but it is still a great place to entertain you and your kids on a rainy day and might even be your chance to see baby turtles. Several rooms display aquariums of various sizes, starting from small tanks with seahorses, some fun and colourful clownfish, the funny-looking longhorn cowfish, or some squarish boxfish.
It may not be as big as the new Aquaria at Central Floresta shopping Mall, but this is a Phuket Marine Biological Center dedicated to rescuing dolphins, dugongs and turtles often found in distress around the island.
Further gigantic tanks hosts some local species, including giant grouper, sea turtles, leopard sharks, moray eels and the list goes on and on. You can even look at some Piranhas from Amazon, but I wonder why they were here; I just hope no one will release them in a nearby river…
Then, of course, the star of the show is the tunnel, which, even short, never ceases to fascinate kids, adults and even elders. Once you visit the Phuket Aquarium main building, like in any aquarium, you can do some silly shopping and get yourself a painted plate with a Nemo in it… or worse. But don't go yet; walk to the back of the building and follow the path along the beach to reach the turtle hatchery. Many turtles, including some seriously big ones, are kept in large tanks until the day they are ready to be released. Cute.
I happened to be visiting the Panwa Aquarium on a very unusual day: a rescue team was rushing in a dolphin kept wet in a stretcher on the back of a pickup truck. The poor dolphin was gently but quickly carried to a large pool. One of the crew walked down into the pool, slowly pulled the dolphin into the water and pushed it in circles around the pool, occasionally pulling his head out of the water to breathe.
The dolphin was slowly recovering and, to everyone's relief, started to swim. He was found on a riverbank of Koh Sirey, a small nearby island connected to Phuket by a short bridge, and was to be kept for a short time, have some blood tests done, and then released in the open sea.
What's around the aquarium?
If you drive to the aquarium, take the time to continue up to the Panwa View Point, a nice 360˚ panorama view from a hill not far from Andacura Beachfront collextion Panwa Phuket (formerly Novotel Panwa). You can also have lunch or dinner at The Cove Restaurant on Ao Yon Beach nearby.
OPENING HOURS
Open Daily 08.30 a.m.-04.30 p.m.
(Ticket Office close at 4:00 p.m.)
Foreigners
Adult 180 Baht
Child 100 Baht
Free for children less than 108 cm tall